Trying this out to see how it all pans out – tracking/and listing the achievements of all runners in the club over the past week.
Some big races covered this weekend, with all distances in the mix, and in no particular order he were go:
Titanic 10k:
We'd 4 club members take part in the TQ10k – some good times had here

Omagh Half Marathon:
Well done to the 3 club members who took part in the Omagh Half Marathon on Saturday –  great times all round on a challenging course and distance:

Asics Greater Manchester Marathon:
Something big this weekend happened in Manchester Mark Rocks went there and ran the Greater Manchester Marathon!

Schneider Electric Paris Marathon:
A firm favourite amongst club members – with a few having done this one in the past. This year Andrew Johnston took it on and SMASHED it

And last but not least – we've a huge number of members taking part in parkruns all over the place this weekend:
Waterworks:

Derry:

Victoria Park:

Ecos, Ballymena:

Queen's Belfast:

Portrush: A sole member hitting Portrush again after our trip up there in Jan!

Ormeau: As always a huge turnout from the club at Ormeau: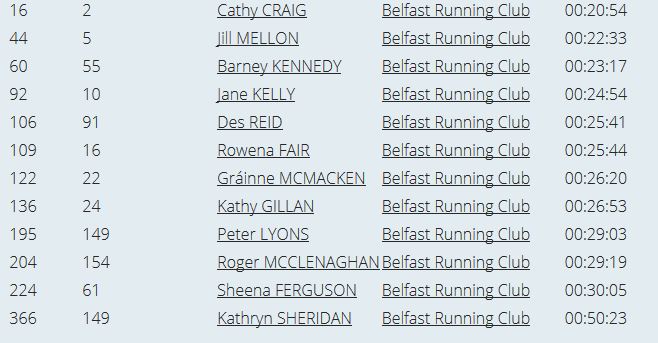 Shanganagh: And down to Dublin (Well Wicklow) for this one:

parkrun time not listed – update your parkrun profile to be added into the mix.
Apologies to anyone I've missed, any errors or omissions (or removals) let me know.