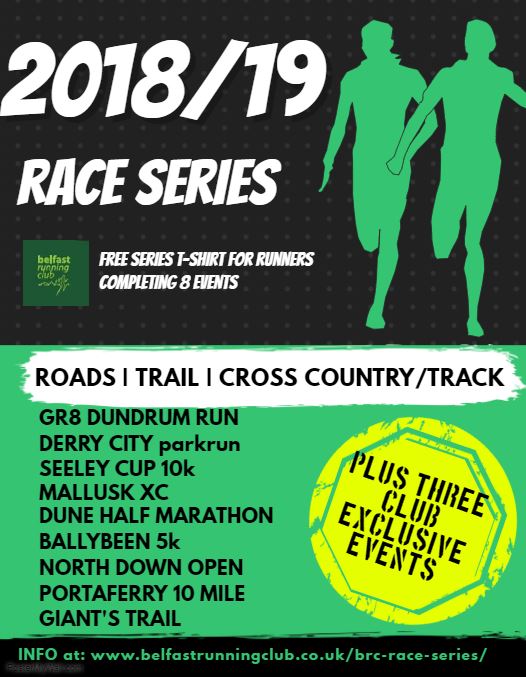 The Belfast Running Club run series is a fun and inclusive event that is returning for 2018/19.
Events have been chosen to cover a range of different distances and terrains – road, trail, cross country and track.
Members made suggestions and we decided to include 12 runs – a mix of official races and club exclusive events.
How do I enter?
Every paid-up club member can take part, but must register for the series.
To register click here.
All we need from you is your name, email address, gender, date of birth and permission to use this for the age graded scoring. Personal details will not be used for any other purpose or shared with any third parties.
There will be no cut off for registration, but you must be registered prior to race series events for your scores to count. There will be no retrospective adding of scores.
Enter races as normal and our club run series administrators will find your results and process them.
Scoring
In an effort to make the series fair, points will be awarded based on age-grading (AG) for most events. This is a way of putting all members on a level playing field, regardless of age or gender.
Scores will be based on the aged graded calculator.
How will we work this out?
Every runner's time will be put through the AG calculator. Points will then be assigned to each runner's AG score.
Scoring examples
A) 53 year old female runs 10k event in 45.15, the AG score is 77.3%
B) 25 year old male runs same 10k event in 41.29, the AG score is 65%
Points will be assigned to each AG in order of highest to lowest. So runner A would receive 50 points and runner B 49 points
An example of the age grading calculator can be found here
Non age-graded races
AG will not be used for some events – such as our staggered start parkrun or any team or pairs events. For these runs, the most points will be awarded simply to the person or teams that crosses the line first.
Again, each of these races will be worth a maximum 50 points.
Pairs race
One of our races this year will be a pairs race – the average time of the two runners will be taken. The pair with the fastest average will be awarded 50 points each. Points will then continue from 49, 48 etc. Details of the pairs race will be announced closer to the time.
General
While the run series will involve 12 events, members may take part in as many or as few as they wish and still be included on the overall points table.
However, only your best 8 results will count towards your final score.
To be eligible for points, you must finish each race and be allocated an official finishing result. The organiser's results will be considered as final – not your Garmin time.
There are 9 official events that are ones that this club has previously supported and are popular among members. We have runs on the roads, trails, a cross country and a track event, as well as distances from 3000m up to half marathon.
The series will be held from October 2018 to September 2019 and runners will stay in the same age category for the year (age will be taken from the date of the first event – October 20 2018).
Runners must be fully paid up members of BRC and we would encourage club colours to be worn at all events.
*Exclusive series t-shirt for every member completing 8 runs*
Prizes will be awarded for the top male and female runners
If you have any questions or queries please contact the club run series committee here
Results from last year are available here
Disclaimer
Every effort is made to provide information that is accurate. However, the content of this document is subject to change at any time. Any changes to official races such as cancelation or change of date is beyond the control of Belfast Running Club.